How You Can Change Your Biochemistry
June 29, 2010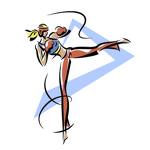 It seems that there is new information every day about the newest, the latest, the greatest diet, exercise, new past time or sport but what really doesn't change at all is what our bodies really need.
First and foremost is good positive thoughts, wholesome nutrition, body movement and exercise, and stimulation for the brain of some sort.
We read all of the time how this benefits that and that help this and so on and so forth but if you really want to get down to the nitty gritty it seems to be a nutrition issue.  What to eat, when to eat it, what combinations are good and how much.
Lowering intake of sugars will certainly help you to loose belly fat.  The reason for that is belly fat is closely related with blood sugars and insulin.
However there are ways that you can do more.
When measuring biochemical changes in our bodies, scientists look for alterations in the metabolites. Some of these metabolites help us to stabilize our blood sugar and burn fat, to stay brief.  While studying exercisers they found changes in more than 20 different metabolites.
What that means is that being in optimum weight and exercising 4 to 5 times a week helps us maintain healthy glucose and insulin levels because of the sensitivity of our insulin receptors.
In order to enjoy good health it is essential to maintain healthy insulin levels.  In doing this we prevent all sorts of disease such as diabetes, heart, cancer you name it.
So even if you appear to be in good shape and don't exercise you are putting yourself at risk.
The good news is that if you are out of shape or over weight, you can regain your health it just takes longer depending on how far you have to go and how determined you are to get there.  It isn't an easy road so the best thing to do is watch it and don't let it get out of control.
If you are really out of shape it's nice to know that even 10 minutes of brisk walking will lead to beneficial biochemical changes and they last up to an hour.  So what if you were able to take several 10 minute brisk walks throughout the day?  You could accomplish a lot.
If you are already in good shape, chances are you go for a good "steady state" work out several times a week, but what would you say if I told you there was a better way to get results?
What if I told you that you could CUT BACK on the time you work out each week and get better results than what you are getting?
You would be interested wouldn't you?
Stay tuned and we will talk about this more next time, we will make some changes and see how it works for you.
For now check out the importance of weight training here
to find out more about us make sure and visit us here

Health is EVERYTHING! I went to India to study medicine and do internship work, I came back changed forever. I am passionate about breathing because breath is life. Living, Laughing, Loving for more than 55 years.

Copy Protected by