Happy Birthday To Our Sweet Daughter
January 25, 2012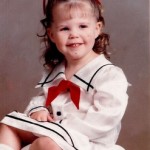 It was 27 years ago today that a great love affair was started.  I became a Mother for the first time and it absolutely changed my life forever.
The moment I had waited for and planned for, didn't come the way I had imagined it.  The first thing I didn't imagine is that I would be kept waiting for two weeks after my due date.  You my dear were on your own time schedule, as far as you could see, there was no rush to get out into the world.
You made your appearance at just 12 minutes after midnight following a long day of being in labor.
And there you were, as beautiful as I had imagined.  You were so interested in looking around at your new world, you didn't cry you just sneezed, and sneezed and then our eyes met.  Your beautiful blue eyes and we recognized each other as our heart beat on the same beat, synchronized forever.
I could not believe the miracle I was holding in my arms, an angel sent from heaven for me to love and to teach and to mold into the beautiful woman that you have become.
You amaze me every day with your beauty and your intelligence.  I love your silly sense of humor and the practical way you look at the world.  You are such a strong person and I have confidence in you that you can handle anything that comes your way.
I am so proud of you and everything you are.  You are now and will always be a part of me.  I think back on the years and how quickly they seemed to pass, and then I realize that even though it seems like yesterday that I held you in my arms for the first time, it actually is.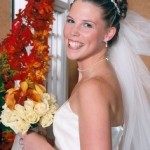 Because each time we hug and I hold you in my arms it feels like that first time all over again and I am reminded of how much I Love, Admire and Cherish you for the beautiful person you are.
Happy Birthday My Sweet, Sweet Daughter.  May every wish, every dream and every hope for your future be yours today and every day of the rest of your life.

Health is EVERYTHING! I went to India to study medicine and do internship work, I came back changed forever. I am passionate about breathing because breath is life. Living, Laughing, Loving for more than 55 years.

Copy Protected by