The Magic Of Tulsi
March 20, 2014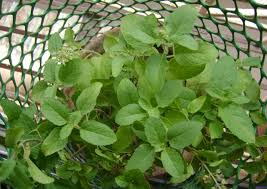 The Magic of Holy Basil or Tulsi
(Ocimum Tenuifloum)
Ayurveda considers that all disease is derived from stress whether environmental, nutritional, job related or mental. Because we all suffer from stress in some form it is wise to have tools to counteract the stress that seems to creep into our daily lives.
What are the tools that help control stress we already know about? There are many things that we can control, like our diet. Organic, local, fresh produce is always best. It is important to remember that our body deals with toxins that are not within our control every day. We don't want to add to toxins by eating foods containing anti-biotics, pesticides and other harmful chemicals.
How stressful are your thoughts? Do you find yourself worrying about things that may possibly never happen? There's a difference between being prepared and worrying about a catastrophic event. We make ourselves sick with worry and that leads to other health related concerns. This is another area that we have control over, it may not seem like it at times because our mind can be pretty powerful. With training in meditation and some activity along with proper diet and herbs, you can get your "run away" mind under control.
How can the magic of Tulsi support our bodies?
We can turn our focus to herbs with properties that assist the areas we need help with. When it comes to stress it is important to support the systems of the body what are some of the things that we look for?
Adaptogens are great to include along with antioxidants to help rid the body of free radicals.
Anti-inflammitory because many stress related diseases will present at first with inflammation and then progress to a higher disease state.
Germicide, fungicide and natural anti-biotic to help the body fight off infections thus alleviating stress from illness.
Diuretic and detoxifier to cleanse the kidney and reduce uric acid in the blood.
Acetic acid to break down kidney stones
Analgesic property to help with pain.
Anti-carcinogenic to stop the progression of breast and oral cancers.
Decongestant to assist with allergies.
It may sound like we would give you an entire handful of herbs to address all of these areas. There is one herb that checks off all the boxes.
Tulsi or Holy Basil is like Magic
Headaches: Helps with all sorts of headaches from sinusitis to migraine due to its decongestive and analgesic properties.
Stress: Normalizes Cortizon in the body is an adaptogen (anti-stress), soothes nerves, regulates blood circulation, fights stress produced free radicals.
Kidney Stones: Dissolves stones due to acetic acid, diuretic, detoxifier, reduces Uric acid in blood good for Gout, analgesic.
Quit Smoking: Reduces urge to smoke due to stress. Chewing the leaves when urge arises reduces stress.
Diabetes: Antioxidants, anti-inflammatory, helps beta cells in pancreas to regulate release of insulin, increases the sensitivity to insulin lowering the blood sugar levels, helps cells overcome oxidative stress.
Protects Heart: Tulsi is shown to lower cholesterol, especially LD types, keeps blood pressure lower, Eugenol (anti-oxidant) helps keep free radicals from damaging heart tissue.
Fever: Germicide and a fungicide as well as an anti-biotic so it helps relieve fevers from the common infection to more serious diseases.
Respiratory: Anti-bacterial, Anti-fungal, anti-allergetic, fights infections, relieves congestion and cough it a good expectorant and is immunomodulatory (good for the immune system)
Hair and skin: Last but not least because of it's purifying properties it is good for reducing acne and pimples. The anti-bacterial and anti-fungal properties assist in preventing break outs. It purifies the blood when the leaves are chewed raw and it reduces excess hair fall and itchy scalp.
Enjoy the magic of Tulsi in your diet

Health is EVERYTHING! I went to India to study medicine and do internship work, I came back changed forever. I am passionate about breathing because breath is life. Living, Laughing, Loving for more than 55 years.

Copy Protected by