Ode To Sunny
July 2, 2012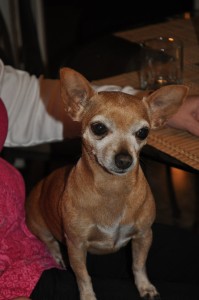 Ode to Sunny
Little bits of sunshine is what they
gave her for a name,
Laying in the sunshine was her
very favorite game.
She wasn't long on memory
try leaving for just one hour,
When you came back in the door
her bark would make you cower.
And so she went about her days with
many jobs to do,
Like cleaning eyes, sniffing scraps
and humping Riley-Roo…..
We love that girl and all she was
mighty and divine,
That's why her name was right for her
Little Bits of Sunshine.
She showed her love in different ways
that to some was a surprise,
She'd bark and growl with just a hug
but it was a disguise.
To make you think that she was tough
a little bigger and really rough.
Go Brush your teeth at night we'd say
so she would go to bed,
She'd tuck her tail and turn around
and up the stairs she'd head.
She came to teach some lessons and
bring with her some blessings,
So now she has another job that makes
her wear some wings,
Love and hugs compassion too is what
she brought to us,
What we gave back in return is what
she taught to us.
Rest In Peace My Dear Friend.

Health is EVERYTHING! I went to India to study medicine and do internship work, I came back changed forever. I am passionate about breathing because breath is life. Living, Laughing, Loving for more than 55 years.

Copy Protected by