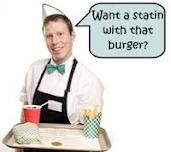 Are you one of the 255 million people a year filling prescriptions to the tune of 19 billion dollars annually? This is just in the United States alone. Many do this instead of looking for ways to lower cholesterol naturally.
What do you know about the drugs you are currently taking? Are you aware of all the side effects? Some of them you can't even feel.
I like to ask people, "What Do You Know About Pharmaceuticals?"
Let's take a moment to take a look at statins for instance.  Over the age of 45 years 1 in 4 americans take statins. That's 25% of the population, that's incredible.  In fact it horrifies me that some doctors think this is a "miracle drug".  They joke that they would like to see it injected into the water supply. The only problem I see is that statement is it's NOT funny. We should find ways to
lower cholesterol naturally.
I was surprised to find out statins are routinely prescribed for people over 45.  Some of whom only have a slim chance of developing heart disease. I decided to educate myself on the side effects.  It concerns me because my parents take statins.
First I wanted to look at the risk reduction and I was surprised to find that taking statins only lowered the POSSIBILITY of having a heart attack by 25% to 30%.  The fact is that long term users are 50% more likely to develop diabetes.  Another reason to
lower cholesterol naturally.
In my mind the pro's do not out weigh the cons.  I decided to continue digging and this is what I found.
Statins caused these side affects
Short term memory loss
depression
mood swings
liver disfunction
kidney failure
cataracts
muscle myopathy…..Chronic muscle pain.