Thank You Virginia
March 12, 2012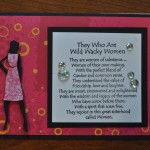 Life is so interesting.
People come and go, the calendar page gets turned, time marches on, and on forever sometimes it seems.
Before you know it, 30 years have passed, you look at your baby daughter and she is 27 years old and you think to yourself, DANG!
When you are in the moment, it drags on or so it seems.  Looking back it happens in a flash.
It goes by so fast and then we come to a time that we reflect back over the years.
Everyone does it, to a certain extent.  "Did I make an impact in anybody's life"?, "Have I done my best to make the world a better place"?, "What will I be remembered for"?, "Have I fulfilled my purpose in life"?
I know, these are some pretty deep questions and that is why it takes us so long to finally look a little deeper and ask them of our self.
You wonder about it and then something happens, quietly and unexpectedly, just out of the blue.
Someone reaches out.
On this occasion I received a beautiful card in the mail.  The Actual US Postal Service with a stamp and everything…….You know how the electronic age can be.
This beautiful card was Hand Made AND it had bling on the front (A girls best friend).
I knew the card was on the way because the person contacted me and requested my address.
I wasn't sure I knew who she was and so this opened up a lovely conversation over the internet and she turned out to be someone I went to High School with (you know that 30 years I was talking about earlier). We never really knew each other, she was much smarter than I was in academics, that would explain the lack of curriculum together.
Funny thing is that we both were aware that each other existed but in our busy teenaged life, we didn't know each other.
I was loud, okay so I said it. She was shy and quiet.
We both had our challenges, everyone does in High School, that's a pretty tough environment.
It was fun to hear her perspective on how life was in High School, as we chatted through email while the beautiful card she sent me was in route.
I couldn't resist finding her in the year book, I had to dig it out first.
When I opened the book the thing that struck me first was the glorious fashion of the 80's……..honestly what were we thinking, and yet it was so fun!
And so the day came when I opened my mailbox and what I had been waiting for had arrived.  Did I get home and open it? Heck no, I ripped it right open in the car.
I was touched.
It made me smile.
It made me feel good.
It let me know that life throws curve balls at all of us, It's how we catch it and make the play that counts. If we drop something we are juggling it's about how we are able to fit that piece back into the puzzle and keep juggling.
If we focus on the things we drop, we may never make the play.
I was happy to know my friend has a happy, fulfilling, satisfying life.  With a Husband of 20 years, 2 beautiful children, a Labradoodle (like we have).
She is one of the "Wild, Wacky Women" with a spirit that soars free.
In this beautiful card she has inspired me and made me realize that "YES" I have touched people's lives.
How simple it is to be able to do that, because she touched my life in such a powerful way with her kindness.
She Reached Out.
Thank You from the bottom of my Heart Virginia.

Health is EVERYTHING! I went to India to study medicine and do internship work, I came back changed forever. I am passionate about breathing because breath is life. Living, Laughing, Loving for more than 55 years.

Copy Protected by