Every Day Ways to Practice Meditation
February 24, 2010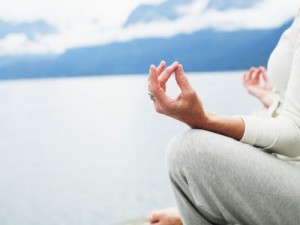 Don't let the thought of meditating the "right" way add to your stress. Meditation takes time and patience to learn so getting stressed about it will just disolve all of the benefits that you are looking to gain.
You can make meditation what ever you need it to be. More relaxed or structured, what ever works for you is what is right for you. Some people build meditation into their daily routine. For example, they may start and end each day with a half hour or an hour of meditation, But all you really need is a few minutes of quality time for meditation.
Tips to practice meditation on your own
Here are some ways you can practice meditation on your own, in ways that work for your own personal needs. Take a few minutes or as much time as you like to practice one or more of these meditation methods:
* Breathe deeply. This technique is good for beginners because of the natural function of breathing. Focus your attention on your breathing. Concentrate on feeling and listening as you inhale and exhale through your nose. Breathe deeply and slowly. When your attention wanders, gently return your focus to your breathing.
* Scan your body. When using this technique, focus your thoughts on different parts of your body. be aware of how your body feels, pain, tension, warmth or relaxation. Combine body scanning with breathing exercises and imagine breathing heat or relaxation into and out of different parts of your body.
* Repeat a mantra. You can create your own mantra, whether it's religious or not.
* Walking meditation. Combining a walk with meditation is an efficient and healthy way to relax. You can use this technique anywhere you're walking – in a tranquil forest, on a city sidewalk or at the mall. When you use this method, slow down the pace of walking so that you can focus on each movement of your legs or feet. Don't focus on a particular destination. Concentrate on your legs and feet, repeating action words in your mind such as lifting, moving and placing as you lift each foot, move your leg forward and place your foot on the ground.
* Engage in prayer. Prayer is the best known and most widely practiced example of meditation. Spoken and written prayers are found in most faiths. You can pray using your own words or read prayers written by others. Check the self-help or 12-step-recovery section of your local bookstore for examples. Talk with your rabbi, priest, pastor or other spiritual leader about resources.
* Read or listen and take time to reflect. Many people report that they benefit from reading poems or sacred texts silently or aloud or listening to inspiration music, and taking a few moments to quietly reflect on the meaning that the words bring to mind. Listen to spoken words or any music you find relaxing or inspiring. You may want to write your reflections in a journal or discuss them with a friend or spiritual leader.
* Focus your love and gratitude. In this type of meditation, you focus your attention on an object or being that you hold above reverence, interlacing feelings of love and gratitude into your thoughts. You can also close your eyes and use your imagination or gaze at representations of the object.
So as you can see there are many different types of meditation and maybe what works for you isn't even listed here. We are all individuals and so we have individual needs.
Take the thought with you that Meditation time is your time and it is valuable so schedule it in and make sure that you don't miss it. It will improve you overall health and lower your stress levels.

Health is EVERYTHING! I went to India to study medicine and do internship work, I came back changed forever. I am passionate about breathing because breath is life. Living, Laughing, Loving for more than 55 years.

Copy Protected by